If you are reading this article, you probably have a baby in your arms. And chances are that you need some insect repellent for babies, or you want to keep insects away from your child. Just like with any other baby product, there is a wide variety of insect repellent for babies out there. The difference is that the danger of using the wrong product is much greater. As summer approaches, insect repellent for baby becomes very important. With summer approaching, there will be more and more insects around. As a parent, you need to protect your baby when out doors.
Insect Repellent Infant
In the current season and even numerous times across the year, rarely do we get any respite from being exposed to different bugs and insects. Swatting them or using creams and sprays might be a great way to keep them at bay. But babies, unfortunately, cannot do so. Using homemade bug repellent for babies along with numerous other recipes for sprays can be a safe way to keep insects at bay. Read on to know more.
Benefits of Homemade Insect Repellents for Infants
Making insect repellents all by yourself using homemade ingredients has its own advantages when compared to numerous other options available out there in the market. Here are some of them:
1. Affordability
Many ingredients required in making the repellents are quite affordable. They can be easily found in your garden or can be picked up from a store at a small price, along with a few necessary oils. You don't even need fancy equipment to prepare it; simple kitchen utensils can do the trick.
2. Safety
Compared to the chemicals used in the sprays and repellents available in the market, homemade repellents are made from natural ingredients which are rarely allergic and are absolutely safe to be used.
3. Personal Touch
Having a spray that is made with your own hands and smells homely and comfortable can be quite relaxing for your little one as well.
4. Made With Ease
You don't need a chemistry degree to make these repellents. They can be produced in a few minutes using straightforward methods.
How to Make Natural Insect Repellent for Babies
Making a natural insect repellent for babies can be done easily by combining various essential oils. These generally have to be diluted so that they don't affect the babies adversely. Checking for any possible reactions on applying the spray is also a necessity.
Let's take a look at some simple repellents you can make in the comfort of your own home.
Homemade Mosquito Repellent for Newborns
When it comes to newborn babies, there are only a few ingredients that have been deemed to be safe, and these have to be used in minimal quantities only.
Ingredients
Olive oil
Teapot
Lavender leaves
Eucalyptus leaves
Rosemary
Bay leaves
How to Make
Take all the herbs together and put them in the teapot with the infuser. If you do not have an infuser, you can use a strainer or a thin washcloth as well.
Boil some water in a pan and add it to the herb mixture in the pot. Ensure the water is hot when you add it. Cover the pot with a lid and let it heat for about 15-20 minutes.
Once done, gently take out the infuser. Use a spoon to gently squeeze the ingredients to get as many oils in the water as possible.
Then, add olive oil. For every 30 ml of the herb solution, add 90 ml of olive oil and mix it well. This should keep the concentration appropriate.
Homemade Insect Repellents for Babies Above 3 Months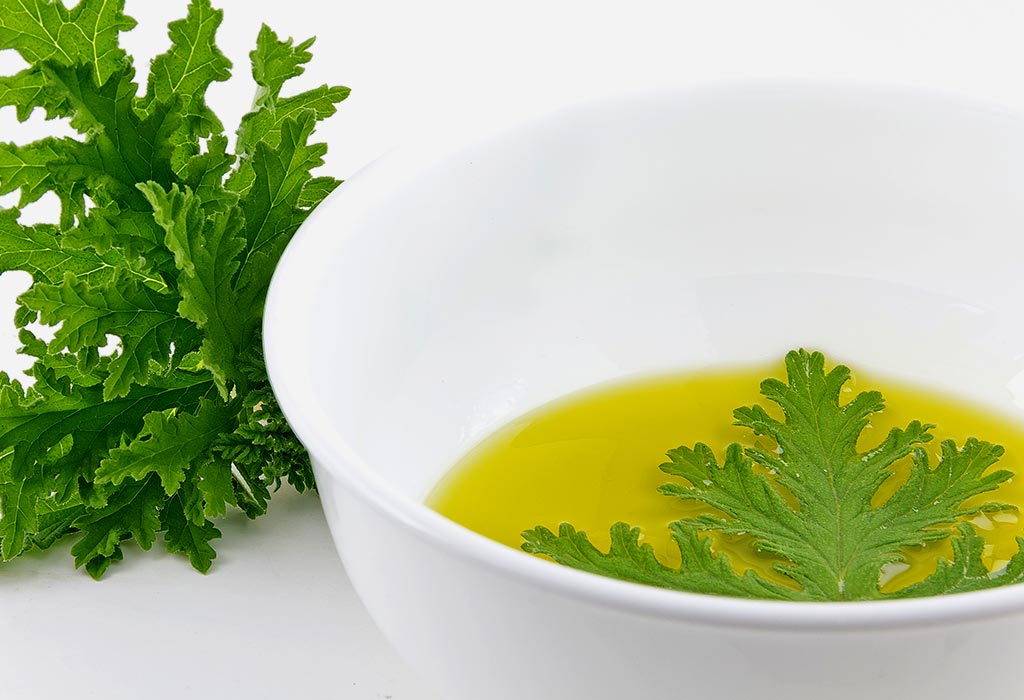 Once a child is more than 3 months old, he begins to develop the power to withstand different substances. Nevertheless, we still can't go overboard with using various oils, and the options have to be restricted.
1. Citronella Oil Repellent
A repellent made using citronella oil combined with olive oil is extremely effective in keeping insects at bay and also has a wonderful aroma to it.
Ingredients
Olive oil
Witch hazel
Tea tree oil drops
Lavender oil drops
Lemongrass oil drops
Eucalyptus oil drops
Citronella oil drops
How to Make
Acquire a spray-outfitted bottle. Open it and add all the ingredients to it.
Before application on the baby, shake it properly.
Spray a small amount directly on the arms and the legs and rub it properly but gently.
When spraying closer to the face, cover the eyes with one hand.
2. Essential Oil Insect Repellent Spray
A combination of various essential oils to create an insect repellent spray can play a vital role in supporting the health of the skin, along with preventing insect bites, too.
Ingredients
Jojoba oil
Citronella oil drops
Witch hazel
Boiled water
How to Make
Take the witch hazel in a small bowl. Add a few drops of the citronella oil to it.
Acquire a dark coloured bottle and add this mixture to it. Shake it properly to mix it well.
Make sure you apply this oil carefully without letting it get into the eyes of the baby.
Keep the mixture away from direct sunlight.
Use these oils every couple of hours or so, depending on the presence of insects.
3. Mosquito Repellent With Coconut Oil
This is the easiest one to make and quite popularly used by natural oil enthusiasts. The benefits of coconut oil are combined with other ingredients to make a great spray that keeps mosquitoes at bay.
Ingredients
Lavender oil drops
Citronella oil drops
Coconut oil
How to Make
Take the coconut oil in a bowl and add a few drops of both citronella and lavender oil to it.
Adjust the proportions to get the right balance of aroma that you need. On a general basis, limit yourself to a couple of drops of each oil to about 4-5 tablespoons of the coconut oil.
Some parents tend to use this mixture as a sunscreen since coconut oil has an SPF of about 6. But, do use a larger SPF cream if you need one.
4. Neem and Camphor Mosquito Repellent
This is another chemical-free option to make a homemade mosquito repellent that is safe for kids!
Ingredients
Neem oil drops
Camphor
Coconut oil
How to Make
Powder the camphor and take it in a bowl.
Add an equal amount of neem oil to the camphor powder. If you're taking 1 tsp of camphor powder, take 1 tsp of neem oil and mix it well.
Add some coconut oil depending on how much you want to dilute the neem and camphor.
Mix it well and your neem, camphor and coconut oil mosquito repellent is ready. You can apply it on the skin directly whenever needed.
Insect Repellent Infant
When it comes to insect repellent for babies, you want to make sure you're using the best materials. The best insect repellents are going to work at keeping insects away from your little one while still being gentle on their sensitive skin. You'll also want to make sure that your insect repellent doesn't have any harsh chemicals in it, as these can irritate your baby's skin and cause rashes or other problems.
List Of Insect Repellent Infant
Price : $14.95 ($7.48 / Fl Oz)
Features :
ALL IN ONE REPELLENT AND ANTI-ITCH: "No-Bite-Me" DOES IT ALL! Forgot to apply "No-Bite-Me" and got some bug bites? No problem: it's an anti-itch cream too! Other creams make you choose between repelling bugs and treating uncomfortable bug bites, but "No-Bite-Me" prevents and repairs bug-bombed skin. Effective on black flies, mosquitoes, fleas, and ticks.
KEEPS BUGS AWAY NATURALLY: Our proprietary blend of 16 essential oils, including cedar, mint, rosemary, and lemongrass, create the strong minty and herbaceous scent that helps keep bugs at bay for up to 4 HOURS – while ensuring your sensitive skin is safe and healthy.
SAFE FOR CHILDREN: "No-Bite-Me" is a completely safe, natural bug repellent. It's easy to apply – just dot on exposed skin and blend in. No mess. No fuss. Deet free to protect even the smallest adventurers.
FULL SIZE FOR BEST VALUE: Our 8oz tin of "No-Bite-Me" cream is amazing for the seasoned traveler! Throw a tin in your backpack, or keep it handy when camping. One tin provides plenty of relief for you and the whole family.
SALLYE ANDER PROMISE: When you buy Sallye Ander products, you can rest assured knowing you are supporting a company committed to quality and the environment. All products are 100% handmade in the USA from organic locally sourced ingredients, and we're completely cruelty-free
Additional Info :
| | |
| --- | --- |
| Color | Clear |
| Item Dimensions | |
| Height | 2 Inches |
| Width | 3 Inches |
| Length | 3 Inches |
| Weight | 0.13 Pounds |
Price : $12.99 ($3.25 / Fl Oz)
Features :
All Natural Bug Repellent: Our extra gentle formula contains non-GMO therapeutic grade essential oils like geranium and certified organic castor and soybean oils. Perfect for sensitive skin and babies' skin. Keep the bugs away from your little ones on your next outdoor adventure
Family Friendly: Protect your whole family with our baby safe, natural bug spray. Great for travel, camping, hiking, fishing, summer adventures, and days spent in the mountains with your kids. Our natural baby bug repellent is independently lab tested for efficacy
Easy Application: No aerosol here – simply "shake and spray" from head to toe, avoiding eyes, mouth, and hands. Our bottle is recyclable, convenient for frequent applications and the 4 ounce size easily fits into purses, diaper bags, backpacks, and pockets for traveling
Safe and Gentle: Perfect for babies (6+ months), toddlers, children, pregnant/nursing mothers, and easily irritated skin. Protect your baby's skin and health with Baby Bug Ban. Our bug guard spray won't stain clothing and is safe to use on delicate, soft skin
Fresh Floral Scent: Amazing floral scent that you and your baby will love and bugs will hate! Non-irritating, non-greasy, 100% plant-based, vegan, and cruelty-free formula. No DEET, Permethrin, clove, eugenol, alcohol or synthetics. Made in the USA
Additional Info :
| | |
| --- | --- |
| Item Dimensions | |
| Height | 5.7086614115 Inches |
| Width | 1.4566929119 Inches |
| Length | 1.4566929119 Inches |
| Weight | 0.2645547144 Pounds |
Features :
Made without parabens, sulfates, phthalates, synthetic fragrances or dyes
Made with a blend of plant and essential oils including citronella, peppermint, rosemary, lemongrass and geranium
Plant and essential oils help keep mosquitoes away
Product not tested on animals
Additional Info :
| | |
| --- | --- |
| Item Dimensions | |
| Height | 9.38 Inches |
| Width | 4.13 Inches |
| Length | 4.25 Inches |
| Release Date | 2018-03-21T00:00:01Z |
Features :
PERFECT FOR KIDS & BABIES – Lafe's USDA Certified Organic Baby Bug, Insect, and Mosquito Repellent is perfect for babies and kids.
CITRONELLA, DEET & CHECMICAL FREE – Lafe's uses a special blend of USDA Certified Organic geranium and lavender essential oils to naturally repel nasty mosquitos and ticks, while keeping your baby safe from the harmful toxins and chemicals found in other bug repellents.
SAFE FOR THE MOST SENSITIVE SKIN – Lafe's baby care products are alcohol free, mineral oil free, paraben free, phthalate free, petroleum free, dye free, and sulfate free, so they're safe for even the most sensitive baby's skin.
B CORP CERTIFIED, FAMILY OWNED AND MADE IN THE USA! – Lafe's has been a family owned company since its inception. Being a B Corp Certified company, we meet the highest verified standards of social and environmental performance, transparency, and accountability. Plus, we are MADE IN THE USA!
Additional Info :
| | |
| --- | --- |
| Item Dimensions | |
| Weight | 0.75 Pounds |
Features :
Full Insect Repellent Coverage, Odorless and Invisible
Calf Height Socks Ensure Maximum Protection from Biting Insects
Repels Ticks, Mosquitos, Flies and More!
Machine Wash up to 70 Launderings without Losing Effectiveness
Medium Weight Socks are Great for Hiking, Camping or Playing in the Yard
Additional Info :